Although we can see plants around the house in the outdoor area, we can also add it indoors.
You have definitely seen how plants are used inside the house. Aside from making it look beautiful, it creates a refreshing appeal and it makes the space even more inviting.
Have you ever thought about adding plants to the bathroom?
Well, do not hesitate to do so because the bathroom is damp and plants can thrive in it. Apart from that, it will also look really good with plants in it.
Not convinced?
We have collected some pictures of bathrooms that have plants inside. After looking at the collection, you will definitely realize that your bathroom will look better.
Check out the photos below.
1. Transitional elegance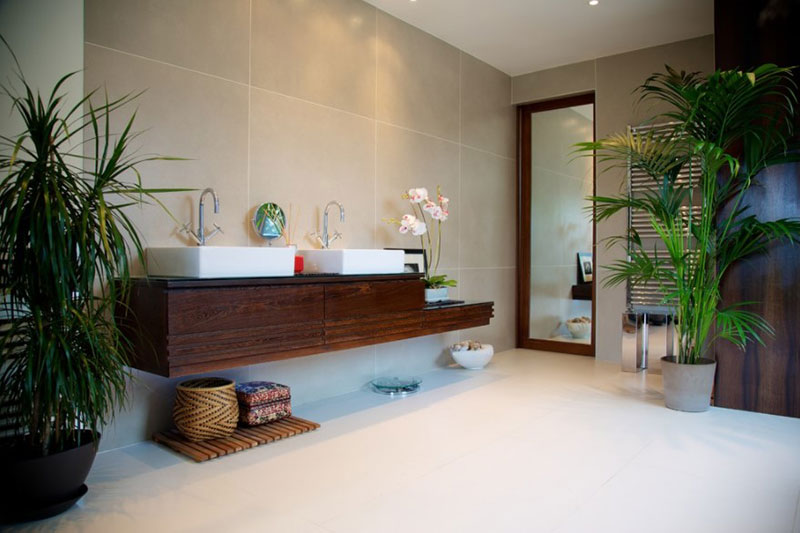 Placing a few leafy plants in the bathroom will add an organic, eco-friendly accent to the bathroom. It gives the bathroom the perfect spa-home look.
2. Astell Street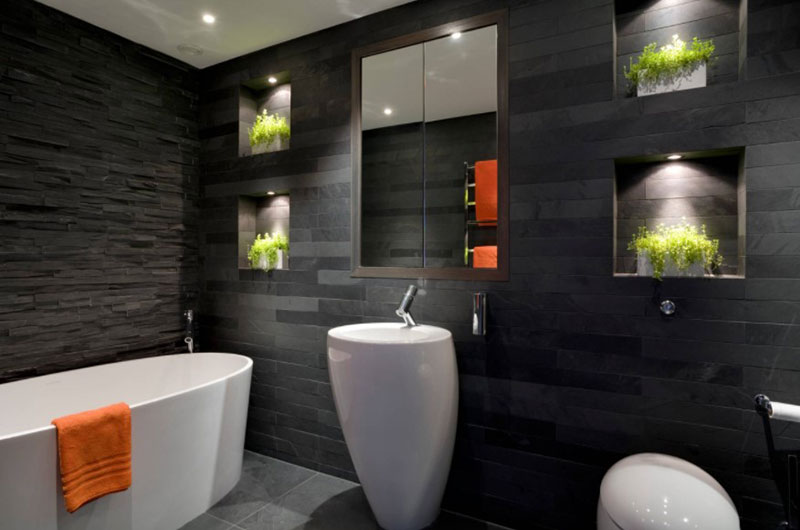 Usually the bathrooms are white, but it can also be black like this. What I like here are the plants on the wall that are highlighted with built-in lights.
3. Parke Rd, Barnes SW13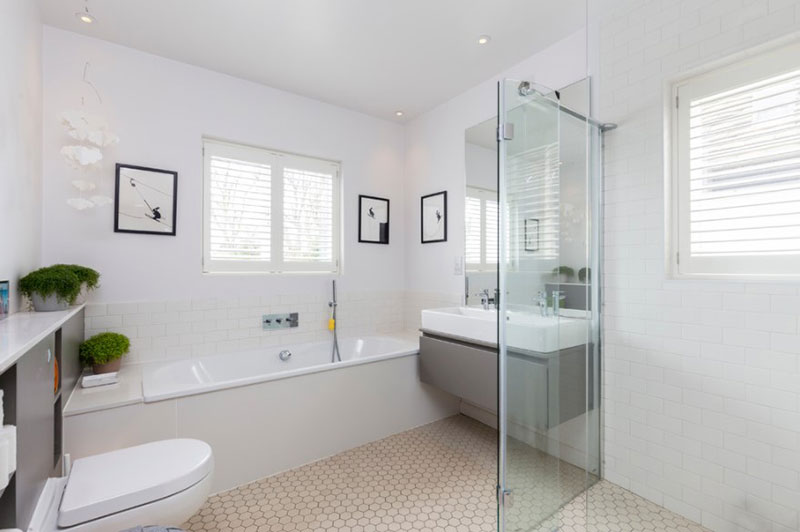 Create a simple statement bathroom like this in a small room. Note that it added a few plants to add some pops of greenery and freshness to the area.
4. Glengowrie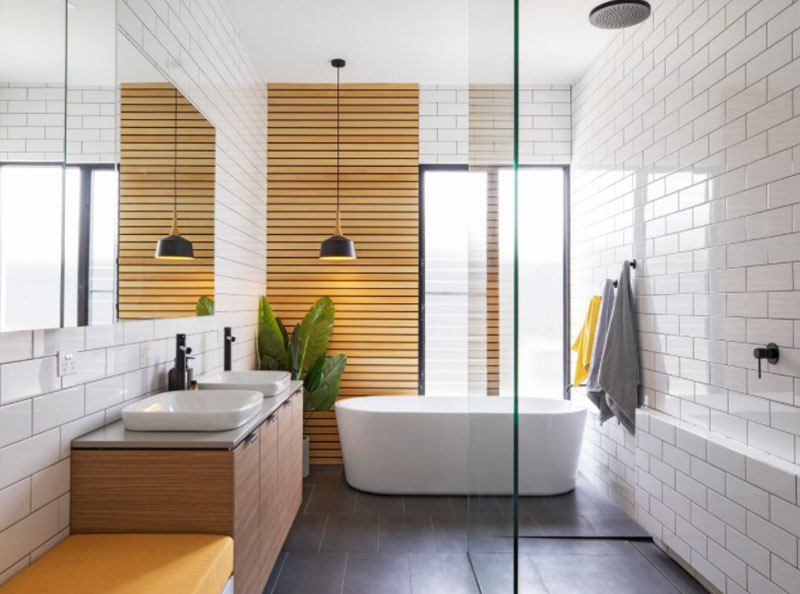 Love the combination of wood and white in this bathroom. Adding a small plant to the side creates a huge difference in its aura as it compliments the tree features.
5. Manly Penthouse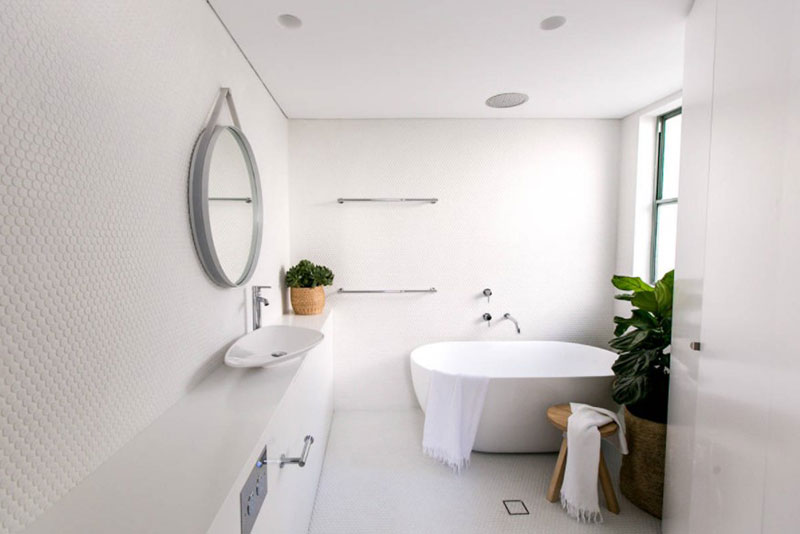 Introduce greenery into potted plants or small trees to bring life to an all-white bathroom.
6. Taybridge Rd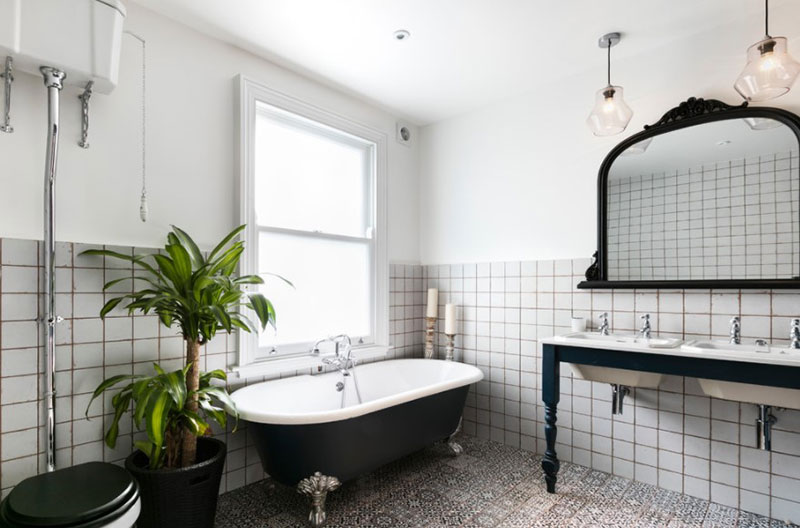 An elegant mosaic tile bathroom with claw-foot tub. It looks great with black and white colors.
7. Renovation of the bathroom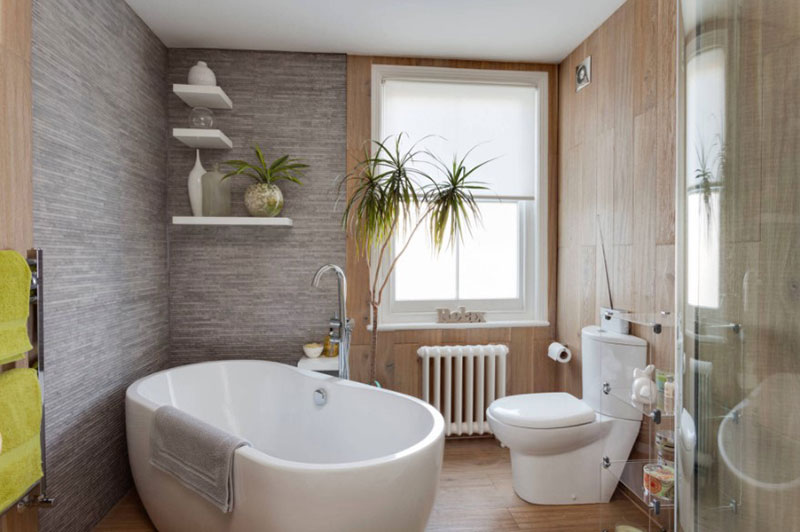 A compact bathroom with textured walls that add warmth to it. It used two different tones for the wall, which makes it look even more beautiful. Adding a few plants will alleviate its appeal.
8. Home Show Expo 2017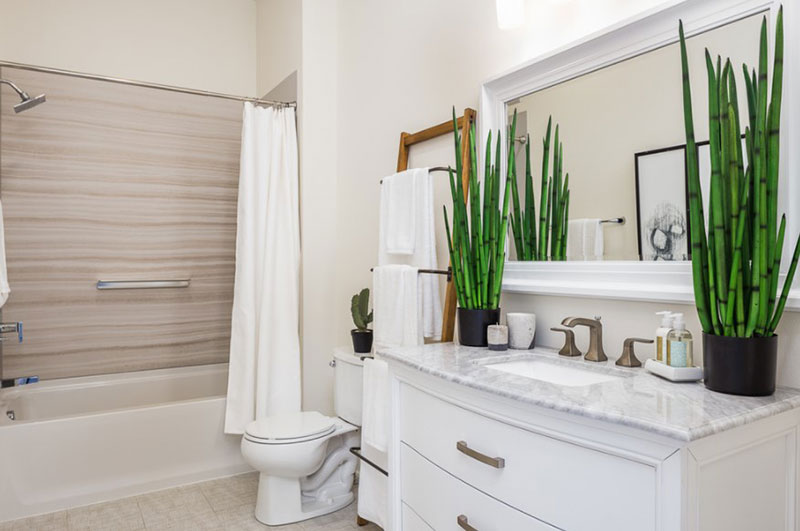 Tone on tone neutral is seen in this bathroom. It has mixed materials that keep the bathroom fresh and bright.
9. The Clovelly Project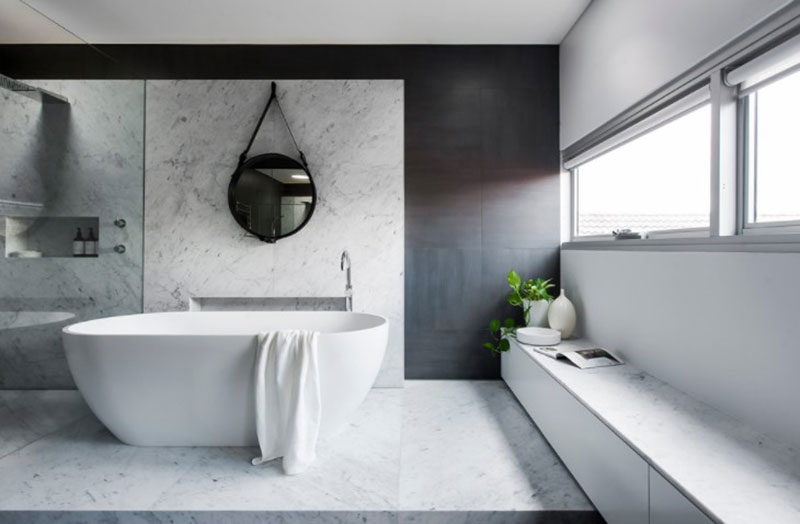 This bathroom seat can be used for more than just sitting. It can be the perfect place to rest rolled up towels for the guests and also to show potted plants.
10. Yorba Linda Master Bathroom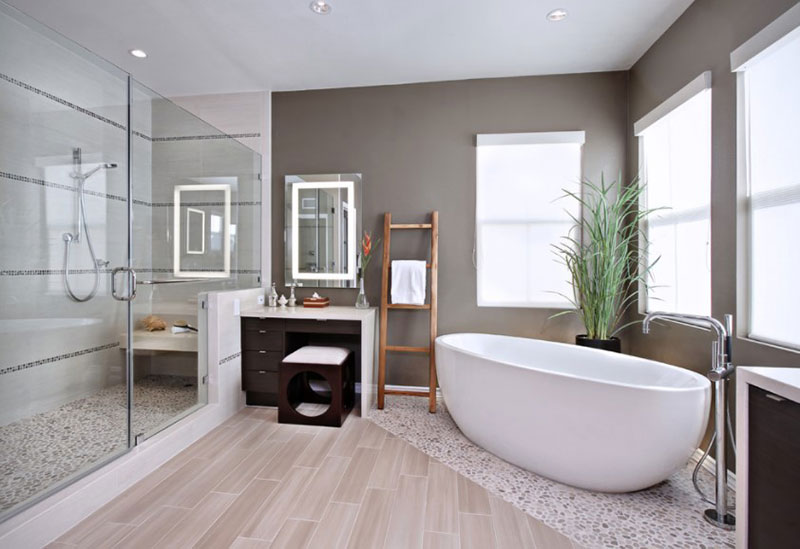 A master bathroom that uses natural materials and textures to create a feeling of bathing in nature. It is Japanese inspired with a modern mix in its design. The use of a bamboo ladder gives it a Japanese feel.
11. Hardinge Road, Kensal Rise, NW10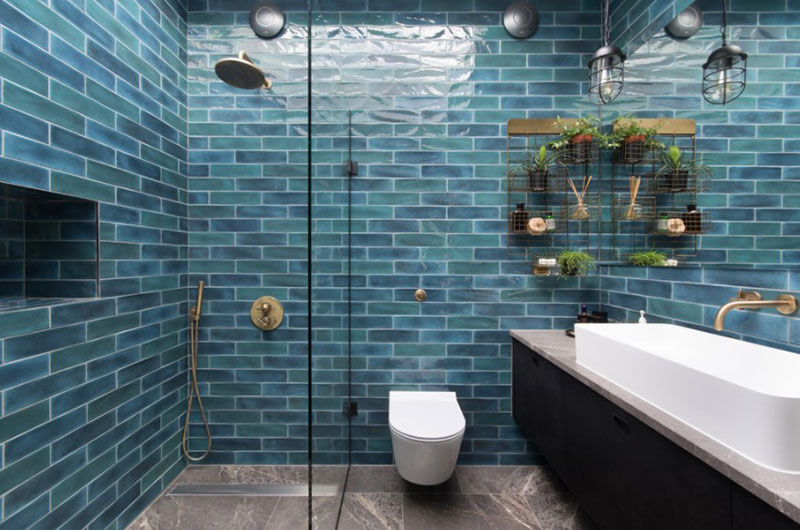 You can increase your bathroom storage by adding a few plants. A simple wire shelf unit is used here as a space-savvy solution. Bathrooms can often benefit from foliage as it can create a clinical vibe.
12. Leichhardt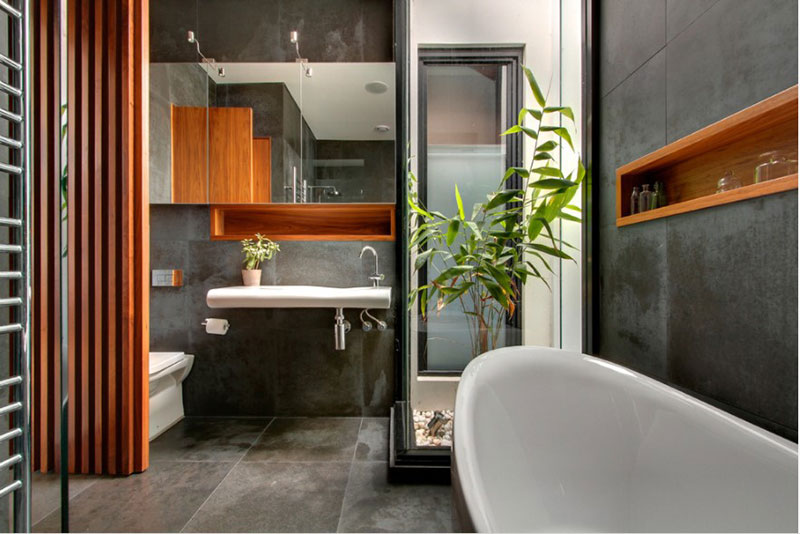 Gray is the favorite palette for today's bathrooms. It looks great with the wood features in it.
13. Pickle Factory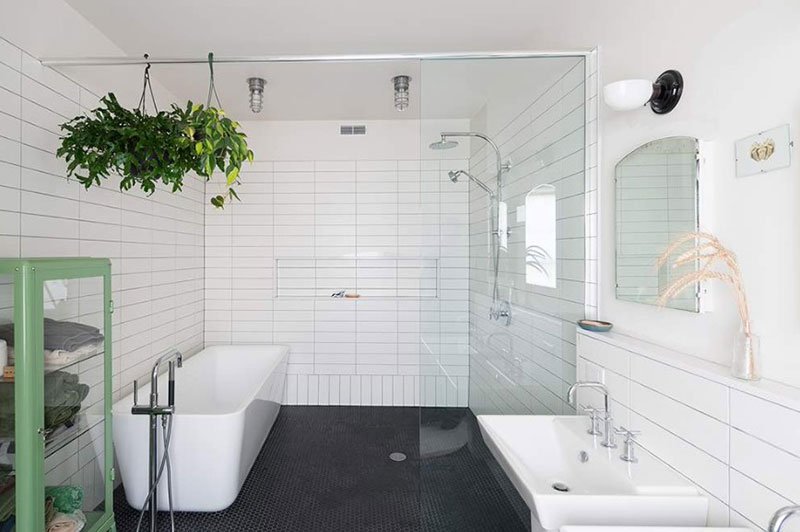 This bathroom has a subtle industrial feel to it, but its appearance is upgraded with the hanging plants in it. It has black floor tiles, which is the perfect contrast.
14. The stuff house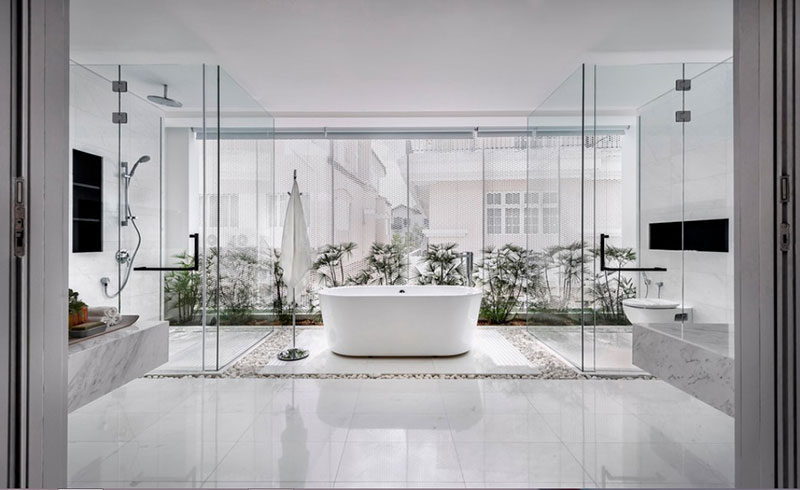 This luxurious bathroom has plants right outside the window. It has glass all around it and I love how they did the layout.
15. Traditional bathroom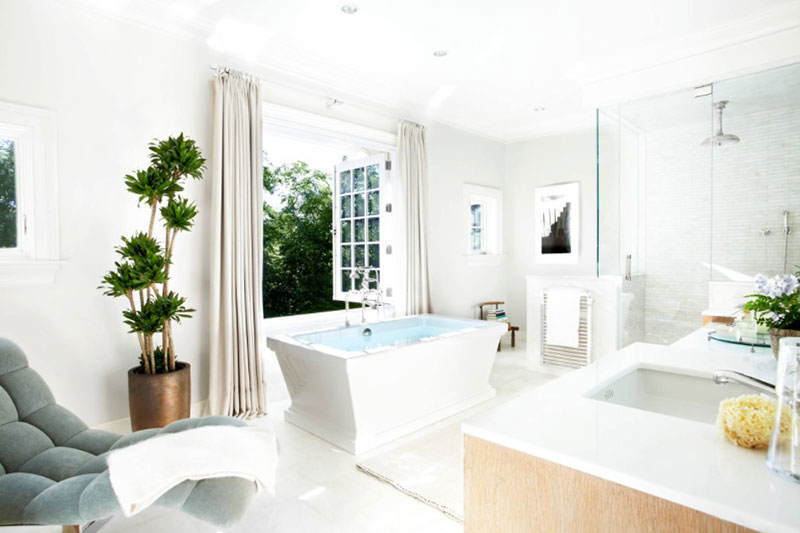 A timeless master bathroom with a free-standing bath and a sink during installation. The planters also have a great influence on the overall appeal of the space.
16. Thole Residence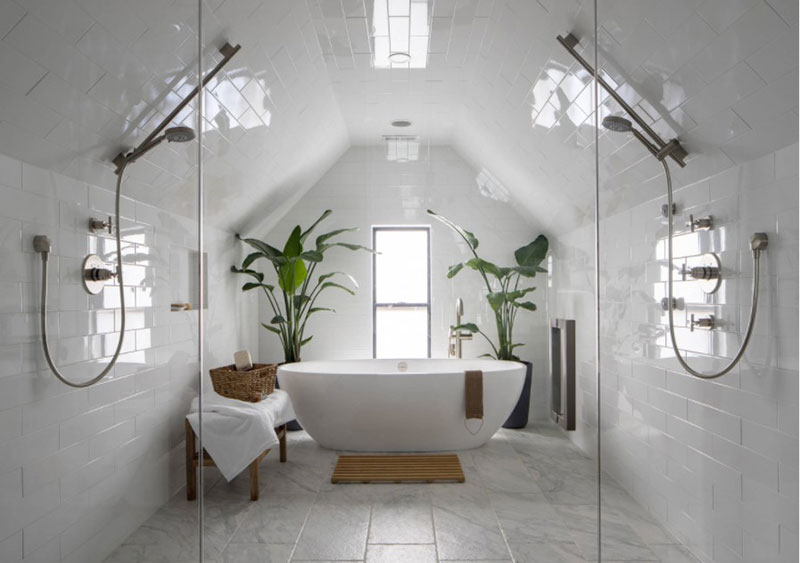 White tiles and porcelain floors in marble tiles are used in this bathroom. The tall plants on both sides of the window look really nice.
17. Koh Samui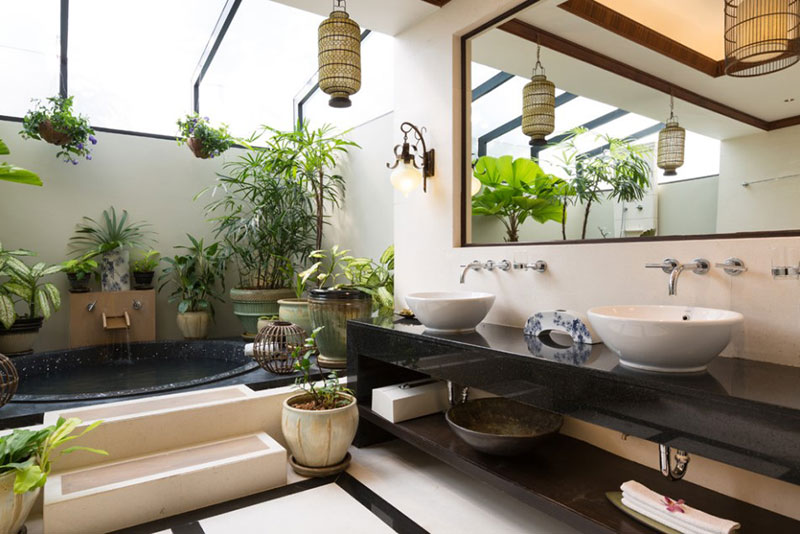 A luxurious spa-style bathroom that brought nature into the area with a selection of tropical plants. All these plants create instant calming effect.
18. Natural stone wet room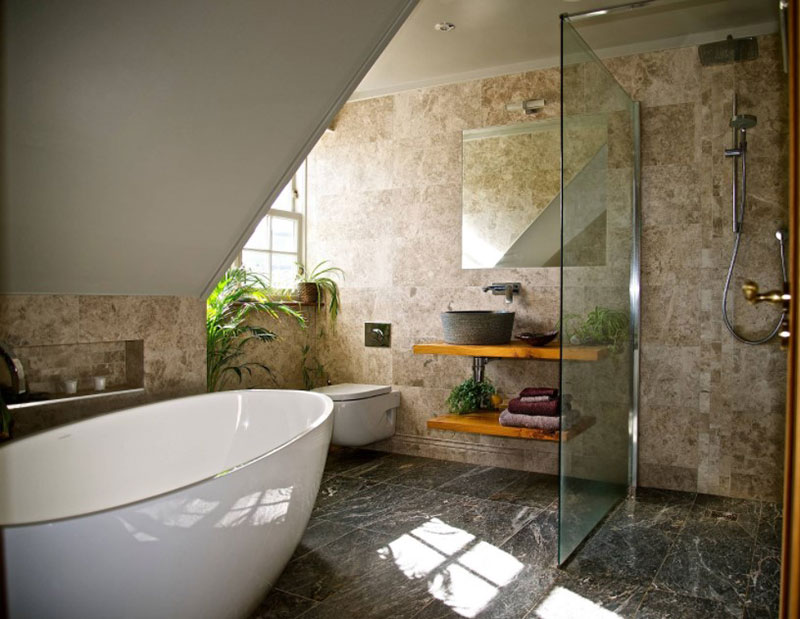 A trendy master bathroom with beige tiles, a washbasin, open cabinets and mid-tone wooden cabinets. It also used wood countertops and a wall mounted toilet. Of course, let us not forget that the plants are added to it.
19. Carlsbad Master Bath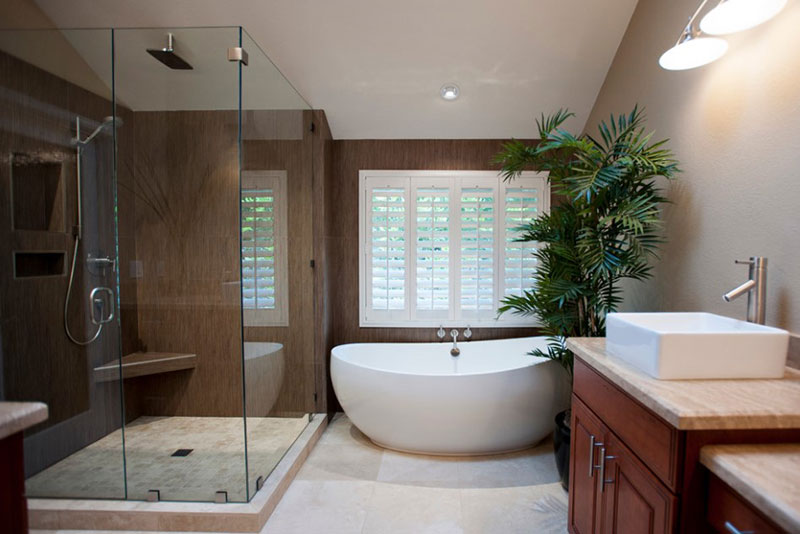 This modern bathroom has ceramic floors with limestone countertops. It has a glass cabinet for the shower area.
20. Harrogate Bathroom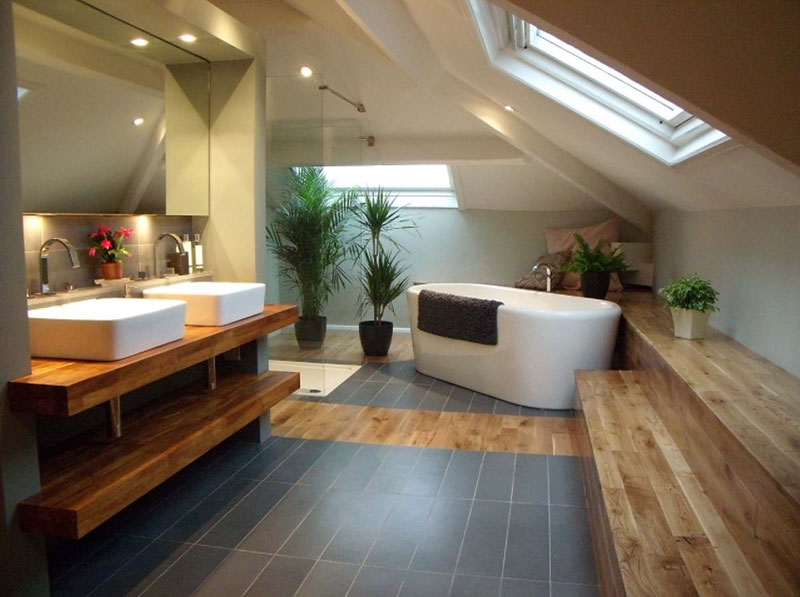 Invite nature into the bathroom with houseplants from mini-succulent families to orchids. You can even add terrariums and plants under glass bells.
After seeing the pictures above, you will no doubt believe us that any room would like to have fresh and beautiful with plants in it. Therefore, it would be nice to bring plants into your home, whether it is bedroom, bathroom or living room. It is as if you are bringing the beauty of nature into the house. You definitely agree with me that the bathrooms above look beautiful with plants in it. Imagine the space without plants and you will realize the difference! Now, would you consider adding plants to your bathroom?