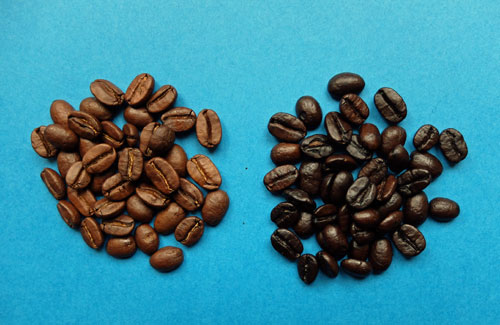 Dark roast coffee beans somehow sound more exotic. But will they give you the taste you hope for?
When coffee beans are harvested, cleaned and ready for shipment in sacks, they are all green.
The green beans are then sent to coffee roasters. Some roasters are huge companies. In other cases, you will find a local coffee shop that buys green beans and roasts them on site.
What is the difference between a dark roast and a medium roast?


First, there are more than two degrees of roasting. There are many qualities … Light brown, Medium brown and so on, all the way up to Black brown.
A skilled roaster will not only consider the preferences of its customers, but will also take into account the quality of the beans being roasted. Some beans are suitable for getting dark roasted, while others may not. Too much frying can mask or kill their unique taste.
And in general, it is true to say that the longer the frying time and the darker the final bean, the greater the likelihood of losing some of the more subtle flavors from the original bean.
The dark roast is the dark brown, roasted bean that is famous for Peet's coffee in California. Starbucks then took up the "dark roast flavor" and made it even more famous. Although Starbucks roasts are generally not as dark as the early Peets roasts.
Most of the time when you buy coffee beans in North America, you are not buying a dark roast at all. The beans you have at home are more likely to be Medium Brown or Medium Dark Brown. It is on Medium Dark Brown that you see a few drops of oil on the surface of the bean.
The dark brown is often used to make espresso and is characterized by a glossy oil that covers the entire bean.
What does this mean for the average coffee drinker?

To be honest, unless you are a complete coffee fanatic, choosing coffee based on subtle differences in roasting times and temperatures can be quite confusing.
Not only do you have to start thinking about the origin of the beans and the subtleties of the frying process, you also have to take into account that some roasters are more skilled than others. So a particular description of the roasting of the same beans may not taste the same if they come from different roasters.
Our advice? Enjoy Medium Roast beans for your regular coffee drinking. And look for a dark roast when you want to make espresso.
Not everyone agrees on this, but it is a good starting point until you feel more confident in your knowledge of all the different origins, roasts and roasts.
More on how to make gourmet coffee …




A little "dark fried" fun. 🙂
Subscribe to the coffee detective newsletter …