A cutting board is a fundamental essential in any modern kitchen that goes hand in hand with the kitchen knife. Any chef can cut, chop and slice fruits, vegetables and meats in this kitchen utensil. In addition, you can choose to improvise it as a base for making a sandwich and cleaning lettuce leaves. With this vital kitchen equipment, you can work quickly, safely and efficiently on most food ingredients.
If you happen to choose a high quality cutting board, it will provide a reliable surface for the edge of your knives. Similarly, a cutting board of poor quality can also encourage the existence of harmful bacteria. However, choosing a high quality cutting board can look cumbersome. Therefore, it is imperative to understand the factors to consider when choosing the most suitable one for your kitchen.
Here we will check some of the factors that buyers can consider before buying this kitchen item. Some of these factors are size, material, price, durability, color, construction condition and sanitation. On this platform, we will go deeper into some of these factors.
Disclosure: As an Amazon affiliate, we may earn an affiliate commission for purchases you make when you use the links on this site.
Cutting board size
The size of a particular cutting board is a significant factor that can really determine your efficiency in the kitchen. It would be best if you went for a larger cutting board where you can chop both large and small foods. For example, it is easier to chop coriander on a large board than to cut large pieces of meat on a small board. Likewise, most of the large cutting boards have a drip groove, which is a bonus to prevent juice runoff. Before choosing to buy a particular cutting board, it may also be wise to consider the size of your sink. Make sure the width of this kitchen utensil fits in the sink for easier cleaning.
It is also reasonable to go for a board size that fits your storage space without any hassle. If you choose to buy a plastic, consider whether it can fit in your kitchen dishwasher. But if you are a regular chef, you can choose different sizes of cutting boards. With such boards, you can insert each of them when cutting out certain foods. For example, you can cut cheese and onions on a small table and work on a whole chicken on a large table.
Cutting board material
In particular, the material of a cutting board is a primary feature that every user should consider. Cutting boards are available in materials such as wood, glass, plastic, steel, silicone, bamboo and composite. You can choose to buy a board of your favorite material after looking at the benefits of each type.
Wooden cutting board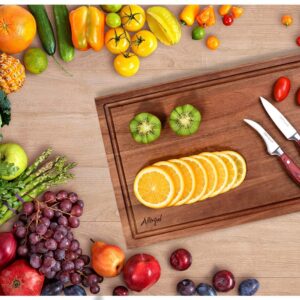 Especially the kitchen cutting board made of wood remains beautiful and fits nicely on a table top if it is well maintained. Those made from hardwood like sugar maple are durable and can withstand the existence of bacteria. Likewise, they are made of other hardwoods such as olive, white ash and bamboo quite robust. Similarly, softwoods such as walnut, larch, cherry, teak and Hinoki cutting boards are of good quality. However, it is worth avoiding cedar and pine boards as they are prone to being damaged.
Advantage
The woodcut block is robust.
Preserves the knife blade.
Less likely to have bacteria.
Made of natural material (wood) and therefore healthy.
Disadvantages
Moving on a tabletop can be difficult.
It can easily absorb stains and odors.
Woodcut boards, via Amazon
Bamboo cutting boards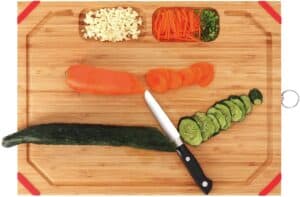 Since bamboo is a fast-growing plant, bamboo cutting boards are good alternatives and are relatively inexpensive. To come up with a high quality bamboo cutting board one has to consider bamboo size, ripening and markings. Cutting board made of bamboo is quite robust and not susceptible to water absorption. Less water absorption rate on this board makes it a hygienic option because it does not contain bacteria. Moreover, it would be easier for everyone to move this board in the kitchen table as it is a lightweight model. It is worth noting that the bamboo board requires oiling at least twice a week using food safe mineral oil.
Advantage
It is an affordable table model.
It is easy to lift when you work on it.
Has laminated strips and thus less likely to twist.
Disadvantages
Can easily blunt your knife due to its hard surface.
Bamboo cutting boards, via Amazon
Cutting board in stone or glass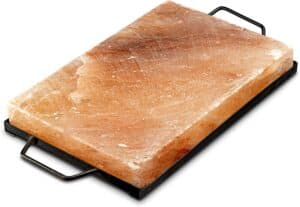 It is significant that these cutting boards are known to have attractive a fashionable and beautiful appeal. However, glass cutting boards are hazardous to health as they may add some pieces of glass that can be cut off while cutting food ingredients.
Marble slabs have visual appeal but are more expensive. Their functions are relatively similar to glass. Note that it is advisable to use the glass cutting board for serving food.
Advantage
It can be used for both serving and chopping.
It is hygienic and easy to clean.
They are lightweight models.
Counteract the buildup of bacteria
Disadvantages
They are fragile models.
Can quickly blunt the blade of the knife.
It does not support the cutting of some food ingredients like meat.
Stone cutting boards, via Amazon
Plastic cutting board (HDPE)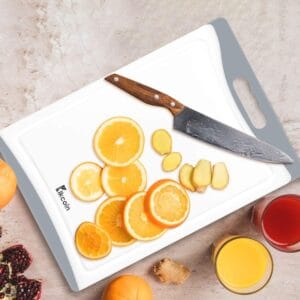 Plastic cutting boards are among the most common models that most people prefer in their kitchen. Some come in different colors, and chefs can choose the appropriate table for specific foods and counteract cross-contamination.
However, plastic sheets with large knife marks may eventually contain bacteria that endanger your health.
Advantage
Is dishwasher-safe.
Preserves the sharpness of the blade.
Are cheap
Are durable if they are well maintained.
Disadvantages
Some are too light and continue to slip on countertops.
This can easily happen if it is regularly washed in a dishwasher.
Plastic cutting board, via Amazon
Composite cutting boards (wood fiber / phenolic resins)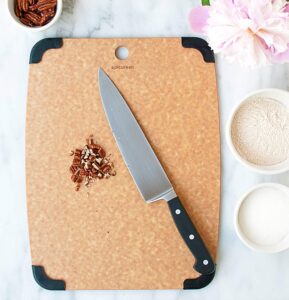 In general, composite cutting boards are made of wood fiber, recycled paper and cardboard. They are available in two main versions that a specific user can choose from. The first model is of high quality, because it is heavy and thick. Alternatively, a customer may choose to purchase a medium quality version that is thin and light. In some cases, you may notice a strange odor from these boards, although the smell becomes lighter after frequent cleaning.
Advantage
Most of them are affordable.
No questions about twisting.
Made from sustainable resources.
Disadvantages
Wood-based boards can damage the blades.
High quality models are expensive.
Composite cutting boards, via Amazon
The hygiene of the cutting board
As a cutting board is an integral part of your kitchen, thorough cleaning and sanitation is essential for maintaining hygiene. Cleaning must be performed after each chopping with a view to the cutting marks and slots on the surface of the board. The user focuses on these cutting marks because they are the primary habitat for pathogens and bacteria. Cleaning of cutting boards can be performed using a sponge and a soapy water. Additionally, if you need to remove bad odor from the wood panels, rinse it thoroughly with a saline solution. In addition, you can use salt and a half-sliced ​​lemon to rub against the surface of the board.
Alternatively, you can choose to use different cutting boards while working on foods such as vegetables, raw meats and others. This reduces the risk of cross-contamination. Also, avoid the tendency to clean the boards with a piece of cloth as it can spread bacteria from the cutting board to the entire kitchen. In particular, the wood board is perceived as more hygienic than plastic board models, as they have antimicrobial properties. However, it is worth noting that some types of wood are toxic and are not suitable for making cutting boards. But if you need to buy a cutting board from popular and reputable manufacturers, this should not worry you.
Maintenance of the cutting board
In general, each cutting board model requires proper maintenance in order for it to remain in good condition. Good maintenance practices extend its life and make your work more efficient. Glass panels are the easiest to clean compared to plastic and wood panels. In addition, it lacks cutting marks that contain pathogens. However, the glass plate requires much more care when handling as it is brittle. Both bamboo and wood panels require oiling to protect them from harmful microorganisms and water.
Essentially, cutting board oiling requires either wax or a food safe oil. All you need to do is apply this oil on the surface of the board and polish it with a clean cloth after a few minutes. Proper storage of your table is also very important. Just make sure your board is clean and worn dry, then keep it upright to make sure it does not retain moisture. Most cutting boards last longer, but the level of maintenance also determines this. Always check the size of cuttings on the surface of the board to check the level of damage to it. This can help you know if you need to replace the board or lubricate it again.
Summary
In conclusion, it may be more than you might think to choose the best cutting board for your kitchen. It is almost impossible to buy a large table model without information on the factors to consider when buying one. For example, size is a significant factor that every customer should consider. Keeping this factor in mind eliminates the problem of storing this appliance in your kitchen. Similarly, it makes it easier to clean it in the sink by purchasing the right size of a board. If you choose the right material for your cutting board, you can also get one that serves the purpose. These and other factors keep you informed about what to choose and what to leave in the market.