2021-05-06 15:39:35
Two of Google's new smart home features are called Home and Away Routines. Released towards the end of 2020, these features have the ability to improve your smart home automation by adjusting devices depending on whether you and your family are at home or not. This is an extension of the pre-existing Routines feature of the Google Home app, where smart home devices can be set to turn on and off at certain times of the day.
Read more:
Google Nest Home Hub – $ 89.99 at Best Buy
The Home and Away routines work best with Google's Nest products – lowering the thermostat when no one is inside, for example, or turning off indoor security cameras when you're at home – but can also control them. devices from other companies, such as lights and smart plugs.
Google Home and presence detection explained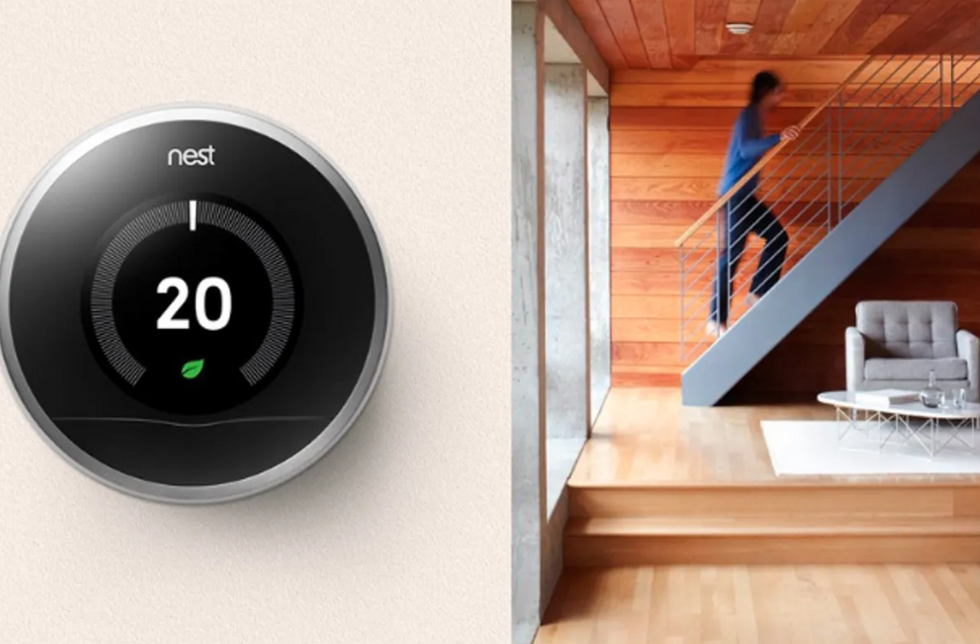 Nest thermostats can help tell Google Home if the house is occupied or not

Nest

To determine whether or not you and your family are at home, Google uses a system called presence detection. This primarily affects the devices that make up the Nest security system, including the Nest Guard, Nest Secure Tag, and Nest Protect, as well as the Nest x Yale smart lock.
Presence detection also works with a Nest thermostat's proximity sensor, which is normally used to display the temperature when it detects someone is nearby. In this app, the sensor can help notify Google Home if someone is present or not. You can use the Google Home app to choose which Nest devices are used for presence detection and which are not. It is important to note that these devices can detect the presence of someone in the house, but do not know who they are.
10 " Nest Hub Max Smart Display – $ 229.99 at Best Buy

Strangely, for now at least, Google's Nest Hub smart displays don't work with the presence detection system, even though they do have sensors to recognize when someone is approaching them. We believe Google may add its Nest Hub and Hub Max smart displays to the presence detection element of Home and Away routines in the future.
Plus, the Google Home app can use your smartphone's GPS, cellular, and Wi-Fi signals to determine your approximate location and know whether or not you're home. However, you need to allow the app to access location data in the background for this to work.
Regarding privacy, Google says, "The Home app does not permanently record your phone's exact location like a GPS navigation app for driving. The app only needs to know two things: if you are gone or you came back. "
How to get started with Google Home and Away routines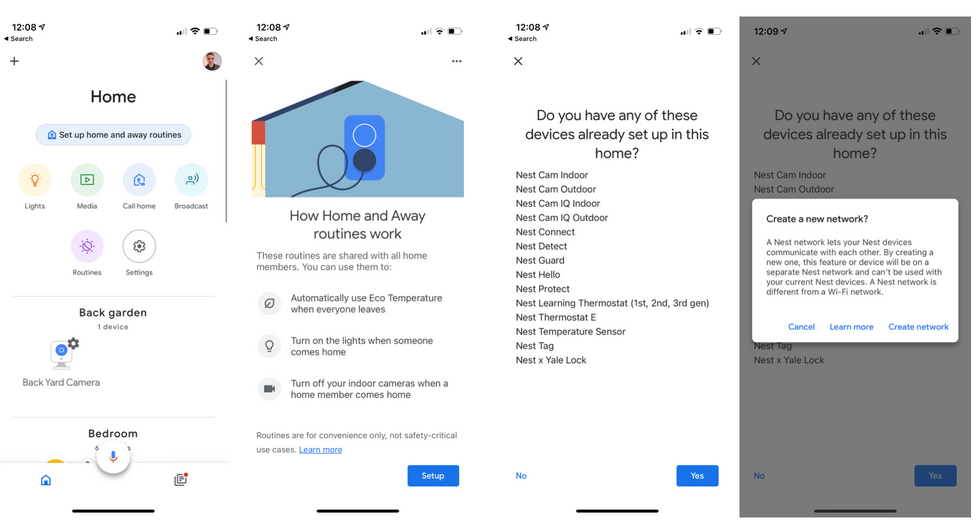 Set up Google Home and Away routines for the first timeGearBrain
If you haven't set it up yet, you should still see a blue banner at the top of the Google Home app, prompting you to get started. Tap it to begin the Home and Away Routine setup process. If the banner is no longer there for you, simply press the circular Routines button instead, then choose from the Home or Away options on the next page.
After tapping on the banner, you'll be asked if you already own and use a range of Nest smart home devices, including security cameras and thermostats (but not smart displays). The idea here is that you can use your existing Nest products to link devices and routines.
But don't worry if you don't have compatible Nest products, because you can say no to that and then create a new Nest Network on which the Home and Away routines will run.
Nest Hub Smart Display (2nd Gen) – $ 99.99 at Best Buy

Next, you'll see which smart home devices can be controlled by the Home and Away routines. In my case, this includes several Philips Hue smart lights and a TP-Link Kasa smart plug attached to a heater.
By default, the Home and Away routines have no impact on any of these devices. To change this, tap Home Routine, then tap the device and decide what to do when someone comes home. This person can be just you or any household member with access to your Google Home system.
Now tap on the Away routine and decide what your devices should do after everyone has left the house. As we explained earlier, Google Home works when everyone is gone through the presence sensors of various Nest devices and (optionally) through your phone's location.
Examples of Google Home and Away routines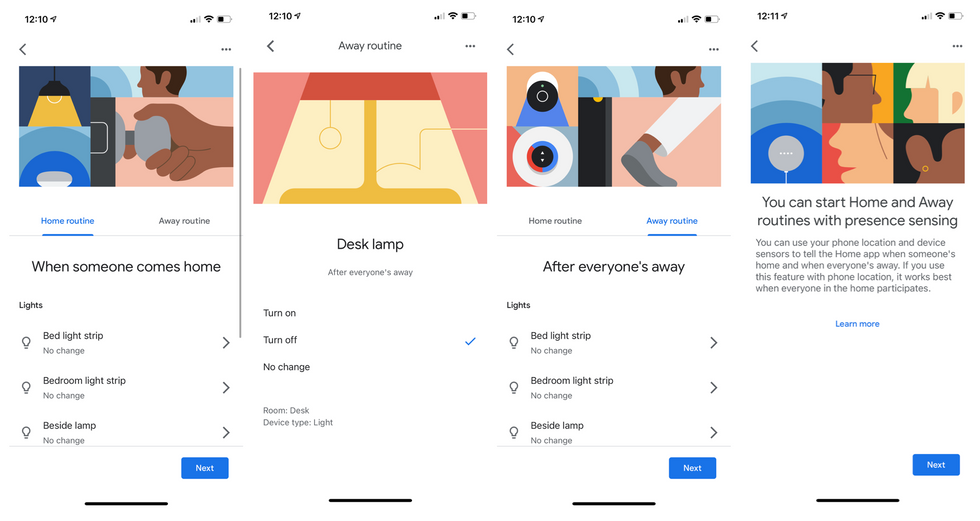 Configure Goole Home and Away routinesGearBrain
I don't have a lot of smart home devices that are compatible with Home and Away routines, but as an example, I could turn off my Philips Hue lights when everyone leaves the house. That way, if I forget to turn them off, they'll automatically turn off when the house is empty. On the other hand, another light could be configured to turn on only when the house is unoccupied.
I could also configure a smart plug connected to a lamp or heater to turn on when someone arrives home, or just have a smart lamp closest to the front door to turn on. .
There's not a huge amount of granular control here, and Google does a fair amount of guesswork as to whether the house is occupied or not, but with some, these routines could still be useful for many smart home builders.
Nest Hub Smart Display (2nd Gen) – $ 99.99 at Best Buy
If you have a Nest thermostat, you can set an away routine to lower the temperature when no one is home. And, while a manually created schedule (or the thermostat's own intelligence) may serve a similar purpose, the away routine will keep that temperature low if the household is unexpectedly away, and won't waste energy heating a home. empty.
Likewise, a household routine can be set up to automatically raise the temperature of the thermostat when a member of the household arrives home, regardless of the normal heating schedule.
Nest security cameras can also be set up with Home and Away routines to, for example, stop recording inside the house when someone returns, then start over when everyone is gone. Another simple use of an away routine is to have a smart outlet to turn off an iron when no one is home, so you don't have to worry about whether you remember to unplug them before you go.
Visit The GearBrain, our smart home compatibility search engine, to see other compatible products that work with Google Assistant-enabled devices.

The GearBrain, the first compatibility search engine for smart devices

www.youtube.com

.