2021-03-16 14:21:39
Google's Nest Smart Home division has announced a new version of the Hub Smart Display, featuring sleep tracking technology for the first time. The device first arrived in 2018 as the Google Home Hub, before evolving into the Nest Hub when Google split up the Nest division. The new model retains the same price of $ 99.99 and is available in the same light pink, light gray, and dark gray color options, along with a new pale blue shade called haze.
Read more:
While the 2021 Nest Hub's design is almost identical to its predecessor, a small difference is how the bezel now aligns with the screen in an effort to make it easier to clean. The touchscreen remains the same as before, measuring seven inches and having a resolution of 1024 x 600. That means it lacks HD, but given its size and intended use, that shouldn't be too much of a concern.
The recently updated Nest Hub is 4.7 inches tall, 7 inches wide and 2.7 inches deep, weighing 19.68 oz; this makes it the same size but slightly heavier than the original. Google says its case is made from 54% recycled plastic. As before, the new Nest Hub does not have a camera. Google is recording video calling capabilities for the larger Nest Hub Max instead.
The new Google device arrives the same week that Apple announced it was ending production of the original HomePod – one of two smart home devices for its smart assistant, Siri. Conversely, Google has continued to update and launch new smart home speakers and displays, like the Nest Hub, for its voice AI, Google Assistant.
The newly updated screen will also have the same access to Google Assistant as before, with a simple interface for controlling connected smart home devices such as lights, outlets, thermostats and more. The new Nest Hub will also support YouTube videos, as well as photos and weather forecasts, and will continue to serve as a music player. To this end, Google has equipped it with the same audio hardware as the Nest Audio smart speaker. This translates to 50% more bass than on the previous Nest Hub. A new system called Quick Gestures will also allow you to pause or play content by touching the air in front of the screen, without touching it.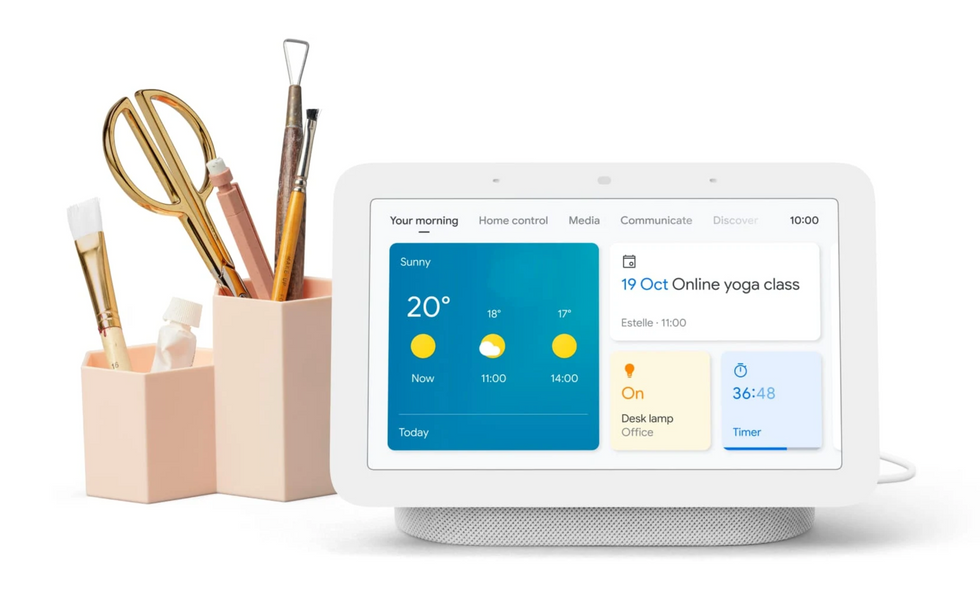 The Nest Hub is priced at $ 99.99 and is available from March 30Google
Sleep tracking
The major new feature of the Nest Hub 2021 is how it can track your sleep, without relying on wearable devices or sensors on your bed. The Nest Hub monitors your movements all night long using its built-in Soli sensor with low-power radar technology. Soli was also briefly featured on the Google Pixel 4 smartphone where it allowed hand gestures to control the phone without touching it. The feature does not appear on the new Pixel 5.
For the Nest Hub, the Soli sensor powers an opt-in system called Sleep Sensing, which analyzes how the person closest to the screen sleeps (assuming they're sitting on a bedside table and tilted upward. bed). It does this based on their movements and breathing, and uses its microphone to detect sleep disturbances like coughing and snoring, as well as changes in light and temperature in the room.
Each morning, the screen displays a summary of your sleep detailing your sleep (or not). It details how much time you spent in bed, times of restlessness, snoring, and coughing, and changes in light detected by the Nest Hub's ambient light sensor. You can also ask the Google Assistant "how did I sleep?" to view your sleep data, which can be shared with the Google Fit app for iOS and Android.
In addition to capturing and displaying sleep data, the system "provides tailor-made bedtime schedules and personalized suggestions developed by a team of sleep scientists and using advice from organizations like the American Academy of Sleep. Medicine, "Google said.
This information is created after monitoring several nights of sleep, and the suggestions aim to highlight notable aspects of your sleep, then explain why they are important and how you can improve.
Google said the sleep detection system is completely optional and with privacy safeguards in place. A visual indicator is used to indicate when sleep detection is on, and Google says the Motion Sense system only detects movement, not specific bodies or faces. Cough and snore audio is processed on the device itself and not sent to Google's servers, the company said. A physical switch can be used to mute the microphone if you don't want to use it, and Google has said sleep data isn't used for personalized ads.
Sleep Sensing is "available for free preview until next year," the company said, suggesting it intended to bill for the system at a later date. Google, which also owns Fitbit, also said it "will look into ways in the future to work with Fitbit's sleep tracking features."
The new Nest Hub is priced at $ 99.99 and is available for pre-order in the US, Canada, UK, Germany, France, and Australia, before it goes on sale March 30.
.