2021-04-22 17:27:17
Samsung is helping keep some of its older phones out of the trash with a new feature that allows Samsung S, Galaxy Note, and Z series devices from 2018 to become smart home controllers. Using SmartThings Lab, people can turn an old phone into a device that can turn on the lights if it's too dark in a room, or even record a sound like a barking dog and then send that recording to the new smartphone. of a user.
Called Galaxy Upcyclng at Home, the new service is currently in beta testing in the US, UK and Korea. And all that is needed to get started is a software upgrade. This update then activates features already present in the phones, including a sound and light control capability.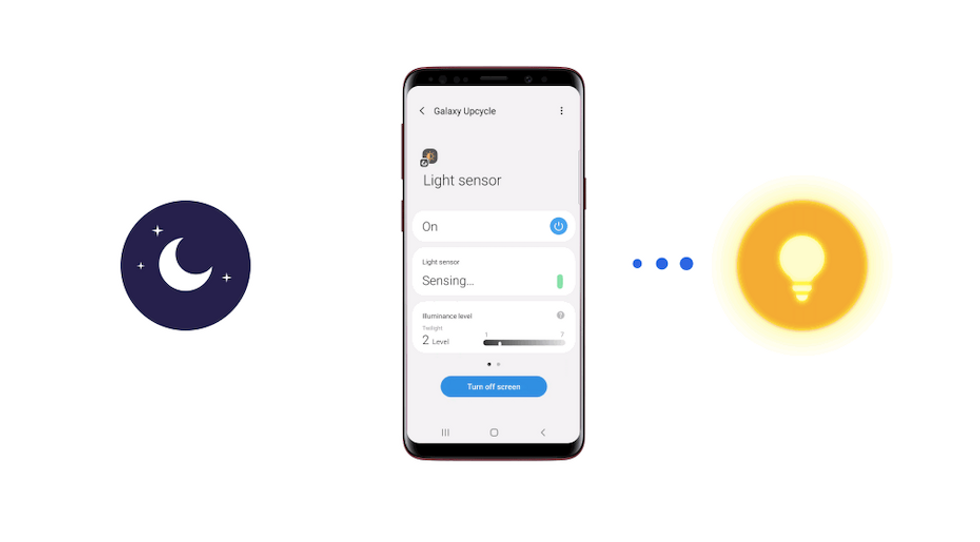 You can automatically turn on the lights with an activated light sensor by switching to the new Upcycling at Home featureSamsung
The update also adjusts the settings of devices related to battery, so that usage is minimized, allowing the device to run for longer.
Samsung SmartThing Labs is a first playground for the features the company tests before making them standard on its devices. Recent deployments have included the ability to turn their smartphones into a universal remote. And you can access SmartThings Lab by:
Opening the SmartThings app for Android
Press the menu bar
Tap on SmartApps
Tap the More menu and select SmartThings Labs
Light controller
Running on the SmartThings network, the newly updated phone will be able to read light in any room where it is placed. If the brightness starts to drop, because it's darker outside for example, it can turn on a TV or lights – or both – as long as those devices are also connected to SmartThings, Samsung's own smart home network.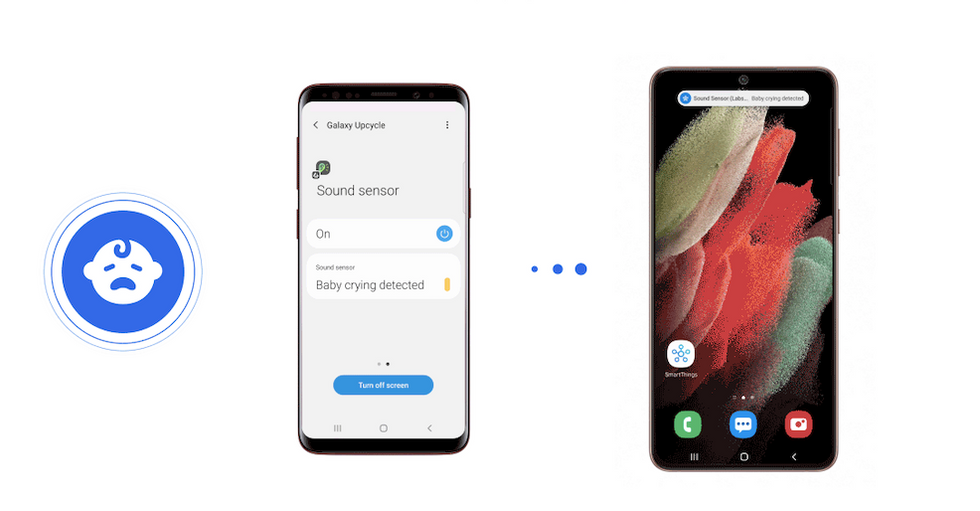 The new feature will also automatically record a short sound clip if it detects a crying baby, dog barking, etc.Samsung
Sound sensor
As a sound sensor, the device will detect a crying baby, barking dog, cat meowing or someone knocking. This trigger will initiate a 10 second recording to be captured, and automatically sent to the user's existing smartphone.
For now, the new feature will only work with select Samsung smartphones, including the S9, Note 9, and Z series after 2018 and beyond. And these devices must be running Android 9 or higher. But Samsung added that it plans to include more devices in the Galaxy Upcycling program in the future.
.