Most bathtubs and shower units have shower curtains. But did you know that there are different shapes and sizes of shower curtains? While most sizes are fairly standard, it is important to find the right size for you.
When it comes to shower curtains, it is crucial to prevent mold and find a long lasting shower curtain. Here's what you need to know about the standard size of the shower curtain that can do all that and more.
What is a shower curtain for?
Shower curtains are not just there to look good. They prevent water from getting out of the tub or shower and give the user some privacy when showering. Not having one can ruin your bathroom floor and become a danger.
It is important in a bathroom to prevent water from accumulating on the floor. No matter how dextrous you may be, a slippery bathroom floor is very dangerous, especially if you have furniture on tile or stone / ceramic.
There are other alternatives to showers, such as waterproof doors or simple glass panels that cover most of what a shower curtain would. But shower curtains are by far the cheapest and most popular solution.
Standard shower curtain size
While there are several different sizes of shower curtains, most shower curtains come in a standard size. The recommended width of a shower curtain is the width of your shower plus 12 inches.
The standard bathtub the dimensions are 32 inches wide and 60 inches long. Then another shower curtain bathtubs are usually around 72 inches. And one for the shower is approx. 48 inches ago average shower is 36 inches wide.
However, the length must also be taken into account. You can either mount the shower curtain close to the ceiling or the top of the shower. However, most shower curtains are made to be cut if necessary so you can customize this length.
How to clean shower curtains
Dirty shower curtains can really detract from the aesthetics of your bathroom and how clean it looks. While most people struggle with their shower curtain by trying to clean it on the rod, the easiest way is to just wash it!
Most shower curtains can be removed from the bar and have the rings removed. Then you can just throw it in the washing machine with a few towels. Add detergent and a little baking powder.
Then add vinegar when it is time to rinse. When they are done washing, hang it up again. It dries naturally. If mildew has built up, add a little bleach to the cycle to get rid of it.
To ensure that you have to wash your shower curtain less often, spray it with vinegar and baking soda at least once or twice a week. This will be easy maintenance and does not even need to be washed off every time.
How to choose a shower curtain
Choosing a shower curtain is not always easy. But there are a few things you can consider to make the process much smoother. Here are some things to keep in mind when choosing a shower curtain.
Size
For your shower curtain, get one that is at least a few inches longer than your shower or tub is. But when it comes to length, you don't want it to touch the ground or at least just brush it.
If the shower curtain swims together on the floor, it is a warm seat where bacteria can grow. To prevent this from happening, but get one in the right length or cut it off once you have it.
Compliance
Your shower curtain should stick to your tub if it is a tub / shower. You can get a shower curtain with magnets or just rely on water to help it get stuck. Just make sure it is the type of shower curtain that is designed to do that.
The reason gluing is important is that it helps younger people especially to prevent water from getting away from them and leaking out of the shower. But keeping a good shower curtain can do that too.
Design
When talking about design, a shower curtain can make a big statement. You want your shower curtain to match the interior design of your bathroom. Shower curtains without high design can be too much, but simple designs are usually perfect.
Also, if you do not have light in your shower, you will probably want a thinner and lighter colored shower curtain. Not having light in the shower can be quite troublesome and get old pretty quickly.
Material
There are many different materials for shower curtains. Plastic shower curtains are cheap, but usually need to be replaced a few times a year. Something stronger like polyester can last much longer, saving you money in the end.
Price
Shower curtains are not expensive. Even the best shower curtain will not give you more than $ 80 back. But only spending $ 5 on one is likely to ensure that it only lasts you a few months and gives you trouble.
Find something in the middle to get the best price and efficiency. Something in the $ 20 to $ 60 range will be your best choice, though it never hurts anyone to get a little out of this range. So look for sales!
Best shower curtain
While knowing what you want in a shower curtain is the first step, it is actually even harder to figure out what a shower curtain is. Here are some of the best shower curtains you can buy today at great prices and qualities.
Wayfair Basics Karina Peva Shower Curtain Liner
If you have a tight budget, you will not find a better option than this. This shower curtain is over Wayfair's own brand is under $ 15, usually under $ 10 during sales. It's simple and you can get it in both clear and cool.
While other more expensive options will look better. This does the job right and gives you something to cover your shower with at a price that you can feel really good about. Get a pair to stock while on sale.
Medina Ivy Vinyl Floral single shower curtain
Here we have another affordable option that you will not regret. The beautiful ivy on this Medina shower curtains match most interior design styles. It's less than $ 30 for sale, which is a good price for a shower curtain like that.
Because it is vinyl, it must last a good period of time and can be cut to fit very easily. Thinner shower curtains are actually harder to cut than thicker ones because they cut sharply unless you have really good scissors.
Recio single shower curtain
Another winner from August Grove, The Recio shower curtains come in five different colors, all with a non-offensive white background with different colored birds on each. This is a peaceful and attractive choice.
The most popular choice is blue because the bluebirds fit well with any design style as this type of blue can be considered neutral. If there is one room that needs to be peaceful, it is the main bathroom.
Berwyn fabric single shower curtain
This Beachcrest Home choice is a good choice. It comes at a great price and is a bold choice for a beach house look. But if you have a beach theme with a beach theme and want to be bolder, this is perfect for you.
That said, this type of striped shower curtain is not limited to beach houses. It can be used in any bathroom with the right color theme. You can get this one in navy blue and white along with two other colors.
Wimberley Shower Curtain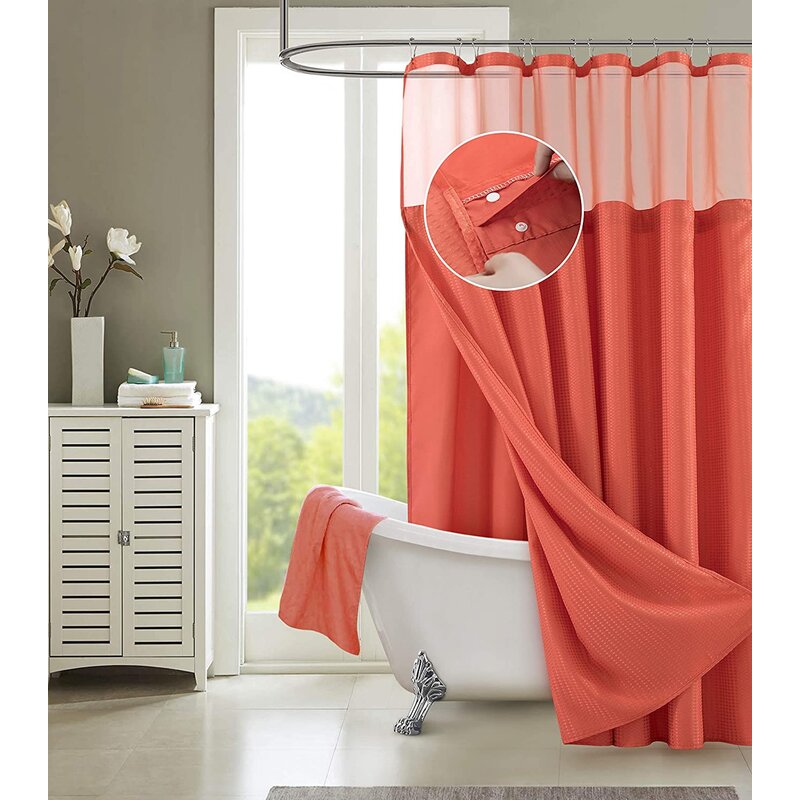 If you can spend a little more than expected on a shower curtain, this double layer eliminates the need for a liner because it has a built-in, matching liner. This is smart and ends up being worth the money.
You can get it in five different colors, which almost guarantees that you can find a color that suits your bathroom. Each of them is beautiful so you do not sacrifice style to get a protective shower curtain you love.
Ruya single shower curtain
Finally we have this beautiful two-tone shower curtain with buttons that are super adorable. You can get it in twelve different colors, all with beautiful natural-toned buttons to ensure that it remains sophisticated, yet down-to-earth.
People who buy this shower curtain fall in love with it, which says more than anything else about it. Buyers love it! It is what is most important in a product that consumers recommend it to other potential buyers.
When do I know the shower curtain is right?
If you can check all the boxes, there is a good chance that the shower curtain will fit you. If one or two things are missing, ask yourself how important these things really are to your family.
When it comes to safety, do not take any shortcuts. But if it's about design or price, try to imagine two scenarios. One where you decide to get the shower curtain and one where you decide to give it up. In what future are you more satisfied?