2021-02-26 10:50:40
Most smart home builders are already familiar with the many wake-up words needed to control voice assistants like Alexa, Siri, and Google Assistant. Now there is another one.
"Hey Facebook" was announced by the social network this week and will be used to control both Facebook's portal's smart video chat screens, as well as its Oculus division's virtual reality headsets.
Read more:
Voice commands were already available on these two devices, but now Facebook is taking a more unified approach with the wake-up word " Hey Facebook " across both categories of hardware.
Previously, Oculus VR users had to select voice commands from the home menu or double tap the button on the controller to activate voice control, but now they can just say " Hey Facebook " to attract the voice. attention from the helmet.
This system is being rolled out to the Oculus Quest 2 now, and Facebook says it will come to all Quest devices in the future. The company explained, "Our goal is to make voice commands a true hands-free experience – and make it easy to take screenshots, broadcast, group with your friends, etc."
So, phrases that you can now use to interact with your Quest 2 headset include: "Hey Facebook, take a screenshot" and: "Hey Facebook, show me who's online" and "Hey Facebook, open Supernatural. ". You can find a complete list of voice commands available for the Quest 2 headset. here, under the last drop-down section.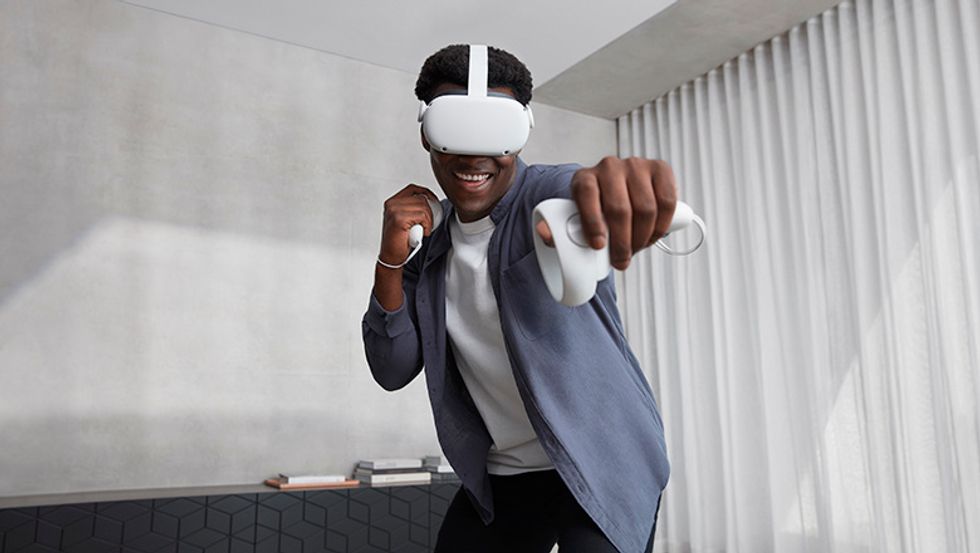 The Oculus Quest 2 costs $ 299


Oculus

On the portal, Facebook's smart video chat screen, the new "Hey Facebook" function simply replaces what was possible by saying "Hey Portal" before.
Like other voice assistants, such as Siri and Alexa, Facebook works by using a microphone that always listens for the wake word. Once heard, the microphone begins to record and transcribe; it is then sent to the Facebook server for analysis, before Quest 2 or the portal acts on your order.
Facebook says voice control is off by default. The company adds, "If Portal detects a wake word, a visual indicator will appear at the bottom of the screen and Portal will begin recording and transcribing your voice interaction. This recording and transcription is sent to Facebook servers in real time for there. answer your demand. "
While Facebook doesn't yet have a full-fledged voice assistant – and its Portal devices currently use Alexa – this move suggests the company is positioning itself to join Amazon, Google, and Apple with such a service. We'll be interested to see what comes next from its Oculus and Portal divisions, and whether Facebook can overcome long-standing privacy concerns to deliver a smarter – but not invasive – voice assistant.
.