The vegetable spiralizer originated from the very creative Japanese cousin and has only become very popular in Western kitchens in recent years. They make creatively shaped vegetables and fruits to use for salads, veggie spaghetti, pasta, shapely chips, and colorful veggie noodles. Spiralizers allow you to cut down on carbohydrates and instead add more vegetable and fruit salads to your diet, which are more nutritious. This trend has greatly enriched domestic and commercial cooking today, as it has greatly simplified the preparation of healthy and artistic looking recipes.
Disclosure: As an Amazon associate, we may earn an affiliate commission for the purchases you make when you use the links on this page.
What is a vegetable spiralizer and what is it used for?
A vegetable spiralizer is a kitchen appliance designed to cut vegetables and fruits into long ribbons, noodle-like strips, spaghetti, or spirals by turning them into pasta and noodles of different sizes, lengths and holders. In addition, it is a great tool for preparing an elegant salad dish. The gadget can work effectively on firm vegetables and fruits such as zucchini, carrots, beets, celeriac, cucumbers, onions, cabbage, apples and others.
There are three types of spiralizers, namely: portable, hand-cranked and electric spiralizers.
Portable spiralizers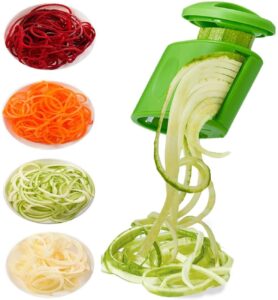 A portable spiralizer is a lightweight, portable spiralizer that is manually twisted and applies the principle of an ordinary pencil sharpener.
It doesn't have a handle to turn the vegetables when you crank it, so you have to twist the vegetable through the blades manually. You hold the machine with your left hand and the vegetable in your right hand. Spin it in the machine to make your noodles.
In particular, a portable spiralizer can only process a limited selection of vegetables. It yields taller or thinner pencil-shaped vegetables like carrots, cucumbers, zucchini, mooli, daikon, etc. Large vegetables need to be cut to fit.
In addition, this kitchen appliance is suitable for preparing small quantities of spiral vegetables. They may also require a greater effort to spiral hard or larger fruits and vegetables and produce greater amounts of waste. There is a risk of personal injury when using this machine.
However, you also shouldn't worry much about its cost, as it costs around $ 5 to $ 10. This price is reasonably lower than that of other types of spiralizers.
Advantages:
The spiralizer is affordable;
Takes up little storage space;
It is suitable when preparing small quantities of vegetable noodles.
The inconvenients:
The spiralizer handles a limited type of ingredient;
It's tedious to use;
Can hardly make large quantities of vegetable noodles;
Manual crank spiralizers
A manual crank spiralizer is a food processor that allows you to process the vegetable or fruit by manually turning the handle. This type of spiralizer is very easy to use and handles the widest range of ingredients among all kinds of spiralizers.
It usually comes with a set of interchangeable blades 2.5mm to 3mm for making noodles, 4mm to 5mm for making curly potato fries, and some spiralizers include blades from 1mm to 1. , 5 mm for making angel hair noodles from firm ingredients like carrots or radishes.
In particular, there are two types of hand crank spirals, vertical, which position the vegetables and fruits vertically, and horizontal, those which place the vegetable (or the fruit) horizontally.
Hand crank horizontal manual spiralizer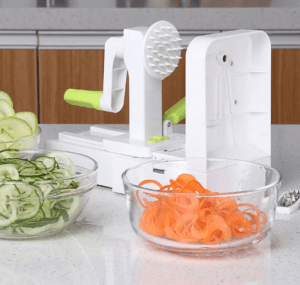 The horizontal style hand crank spiralizers adjust the vegetable horizontally on the tips and use horizontal force to process the ingredients. With this kitchen appliance, you can spiral a very wide variety of vegetables and fruits such as zucchini, beets, onions, cabbage, sweet potatoes, celeriac, etc. The device is mainly made with suction feet to improve stability during use.
Moreover, the hand crank spiralizer is safe to use; however, they leave some waste, such as untreated core pieces located around the attachment point. Horizontal vegetable spiralizers cost around $ 25- $ 180 depending on the model, the Chinese version is the cheapest, and the original Japanese can cost up to $ 180.
Advantages:
Process a wide variety of vegetables and fruits;
Come with a selection of blades for different types of noodles and pasta;
Very easy to use;
Safe to process ingredients;
The inconvenients:
Usually leaves vegetables unprocessed;
Some models do not handle firm ingredients well.
Hand crank vertical manual spiralizer
Vertical manual spiralizers secure the vegetable or fruit vertically and rotate the handle by applying downward pressure. The rotating handle makes it easy to slice vegetables through razors to produce excellent noodles.
Just like the horizontal machines, the vertical machines are very easy to use and capable of processing a wide range of ingredients, from soft zucchini and cucumbers to firm sweet potatoes and butternut squash. In addition, with this type of spiralizer, there is no more wasted "core" because the vegetables are fixed in a vertical position.
The device is also affordable and the price is in the same range as the horizontal devices; however, the US market does not have a wide variety of vertical spiralizers like the European market does.
Advantages:
Process a wide range of ingredients;
Requires little effort when spiraling vegetables compared to horizontal spiralizers;
Comes with the interchangeable selection of blades;
Leaves less waste than horizontal devices;
The inconvenients:
Are not widely present in the US market.
Electric spiralizers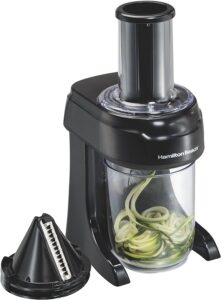 An electric spiralizer is a stand-alone device that can be automated or attached to a compatible stand mixer. It is built with an electric motor and a feed chute where the user places the vegetable for processing. It takes little effort to push the vegetables towards the blade area using your hand or a pusher. From there, the spiralizer does the rest of the work automatically.
However, electric spiralizers are not as versatile as manual hand crank devices, and they are not capable of handling ingredients thick in diameters such as onion or cabbage. These types of devices usually come with a 3-inch diameter feed chute and thicker vegetables should be pre-cut before processing. Plus, firm ingredients like butternut squash will take extra effort to cut them into the proper size to fit the chute.
Additionally, electric spiralizers are generally more expensive than manual devices, with prices ranging from $ 50 to $ 150.
Advantages:
Suitable for those who need to handle tons of vegetables
Spiralizes without forcing; no physical effort is necessary for its functioning;
Comes with a variety of blades for different types of noodles and pasta;
The device saves you time when preparing noodles;
The inconvenients:
Does not handle a wide variety of ingredients;
May require precut for some thicker vegetables.
What accessories and features of the Spiralizer may be important?
Blades: When purchasing, you should check how many blades a spiralizer has and what you can use them for. Typical spiralizer usually includes 2.5mm to 3mm noodle size blade, 4mm to 5mm spiral size blade, some include 1mm to 1mm angel hair noodle blades, 5mm, some have extra cutting blades to make long ribbons.
Blade storage container: Consider the spiralizer with a blade storage container. Whether the blade storage is plastic or metal, it should be large enough, secure and strong enough to hold the steel blades without being torn or too small for the edges.
Suction feet: When buying a cheaper model, consider a spiralizer with suction feet. While the original Japanese devices are built to work without the suction cup feet, Chinese knockoffs will definitely need them for efficient operation.
Final thought
Spiralizers are special kitchen devices that can change our diet. They help us flavor our dishes by making tasty pasta, salads, potato chips, colorful spaghetti-like vegetable noodles, etc. Do you want to make your family healthier? You should opt for a manual, electric or portable spiralizer, depending on the purpose of the device. If you need to spiral regularly, you should have a good quality electric spiral or manual spiralizer. You should buy a portable spiralizer if you don't intend to spiral frequently. Get yourself a spiralizer to your specifications and enjoy meals after that.