Alexa is the voice assistant that belongs to Amazon. Right out of the box, Alexa can already perform a wide range of tasks, such as Set timers, read the news headlines and the weather forecast, tell jokes and answer general knowledge questions.
But this is just the surface of what Alexa is capable of. Dig a little deeper and you will discover the skills catalog, which is filled with additional things that Alexa can be programmed to do.
Read more:
At its simplest, Alexa skills are like smartphone apps. They are created by developers from third-party companies. Some skills work all by themselves, while others are required to get Alexa to interact with something else, such as an online service like Spotify or a smart home product like a Roomba robot vacuum cleaner.
Introduction to Echo Studio – High-fidelity smart speaker with 3D sound and Alexa
Some skills are games to play by talking to Alexa, while others can read stories to children or talk you through meditation and training courses. Not all Alexa skills use the default Alexa voice to speak, as some are filled with a different voice that the developer has decided to use.
Unlike smartphone applications, which require a good understanding of computer programming, Amazon has made it easy for anyone to create an Alexa skill. Called Alexa Blueprints, the system helps users build an Alexa skill that is personalized for you without any coding at all.
Unlike smartphone apps, all Alexa skills are free to download and use. Like many phone apps, however, some include additional subscription costs to unleash their full potential.
How to find and install an Alexa skill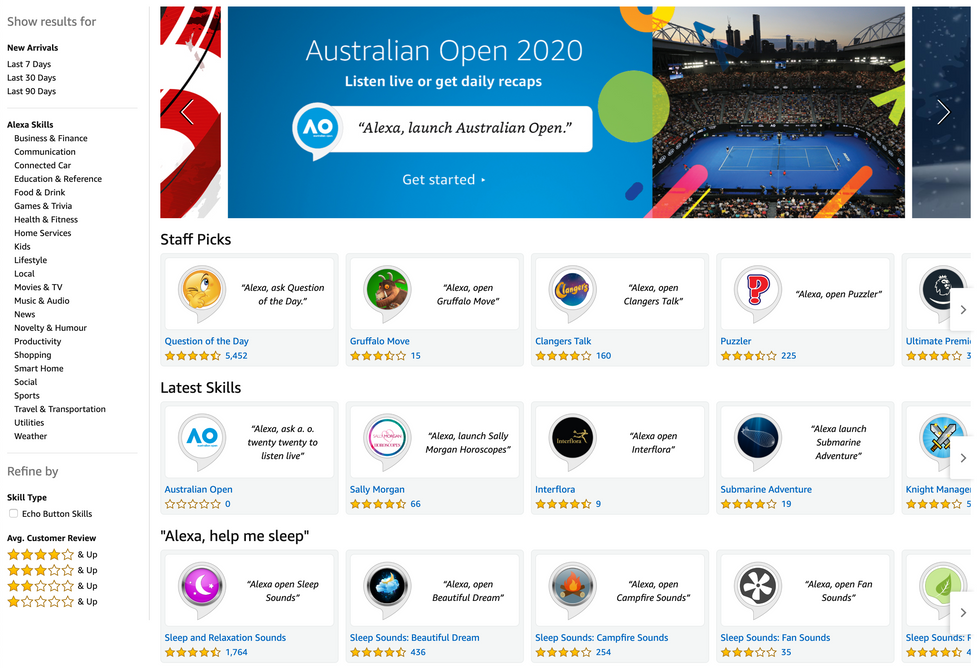 The Alexa Skills LibraryGearBrain
You have a few different options here. First, you can talk to Alexa on your Echo smart speaker or monitor (or whatever device you have Alexa running on) and ask it to find a particular skill.
If you know the exact name of the skill, you can ask Alexa to activate it; just say, "Alexa, activate [skill name]If you also ask Alexa to do something, the assistant will sometimes identify the skill that the task requires, so ask if you want it enabled.
Another option is to use the Alexa smartphone app. To find and activate a skill, open the Alexa app, then tap the menu icon in the upper left corner and tap Skills & Games. Browse around until you find the desired skill (or tap the search icon in the upper right corner), then tap that skill and tap the Enable to Use button. If the skill has additional purchases available, it will say so just below this button.
Like an app store, you can read the description and check star ratings and reviews of all skills before activating it.
Finally, you can browse and activate skills on the Amazon website. Again, you can see descriptions, ratings and reviews here before activating them.
A word of warning – while the situation has improved over the last year or so, the Alexa Skills Catalog can be a hit-and-miss. Some skills are important and work well, such as those for using the Spotify, Sonos and Roomba vacuum cleaner that we mentioned earlier.
Brand new Echo (3rd generation) – Smart speaker with Alexa – Twilight Blue
But some have a relatively low quality and add a little to the experience of owning an Alexa product. Some skills from high-profile organizations like the BBC (average rating for a star) and Amazon-owned Ring (2.7 stars) have had their fair share of trouble and criticism.
Often, this stems from a flawed update that broke the core functionality of the skill, resulting in a stream of one-star reviews. Although the skill is resolved quickly, it takes a long time before new positive reviews bring the average up again. It is worth reading some reviews and checking the date they were written before rejecting a low score skill.
Log in to an Alexa skill
Some Alexa skills ask you to log in to get the most out of them. For example, you will need to share your Spotify login information with the Spotify skill before Alexa can be used to control your music. As a side note, you can activate your Spotify or Apple Music skills by saying, "Alexa, play [song name] on Spotify / Apple Music "and Alexa will help you get the relevant skill enabled.
Another example is the Xbox skill, which lets you turn your console on or off by asking Alexa, and you can even record a piece of gameplay and save it by talking to the assistant. To set this up, link your Alexa and Microsoft accounts. When you press the activation button, the Alexa app asks you to sign in to your Microsoft account, and from there you can finish activating the skill.
It's a multi-step process required when connecting Alexa with other devices, but it only needs to be done once for each skill you activate, and it's simple enough to follow.
Echo Show 5 – Compact smart screen with Alexa – Charcoal